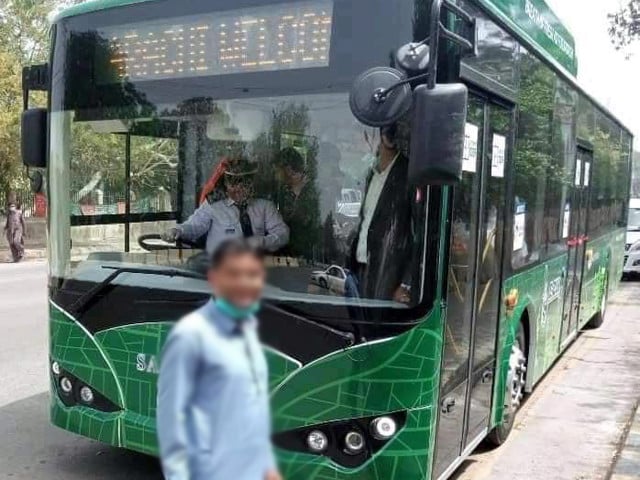 Inaugrated the first electric bus for Karachi. We will be adding a fleet of 100 electric buses for Karachi in near future. InshAllah !! pic.twitter.com/Nzcqlt2e4r

— Syed Awais Shah (@awais_shah01) March 30, 2021
He said the fare will be Rs4 per kilometre and the public transport will run seat to seat, adding that the number of these buses will be increased on a monthly basis.
By the end of this year, Shah said, the number of these environment friendly vehicles will rise to 100. He said that progress has also been made on the Sindh government's own bus projects.
In Karachi, the PPP government has done a commendable job in every field, he maintained. "BRT projects will also complete soon. We are also going to trade 250 buses very soon."
#Pakistan First Electric Bus In ##Karachi #Sindh.
Thank You Sindh Govt
Thank You @BBhuttoZardari Sb
Thank You @awais_shah01 Sb,@AseefaBZ @BakhtawarBZ @SyedaShehlaRaza @asmashirazi pic.twitter.com/DBtuPKLTFg

— Muhammad Suleman Shanbani (@Suleman_PPP) March 30, 2021
Soon after the news started doing rounds on social media, the sci-tech minister took to Twitter to congratulate the Sindh government, specially Chief Minister Murad Ali Shah and his ministry, on their "remarkable step to add electric bus in Karachi Commuters system".
He said his ministry fully supports the Sindh government in this "futuristic approach" and expressed the hope that the Punjab and Kyber-Pakhtunkhwa governments will also take the same route as soon as possible.
Want to congratulate Sindh Govt specially @MuradAliShahPPP and ministry of transport on their remarkable step to add electric bus in Karachi Commuters system,@MinistryofST is fully behind Sind Govt in this futuristic approach hope Punjab and KP ll also take same route ASAP

— Ch Fawad Hussain (@fawadchaudhry) March 30, 2021